Introducing My Sweets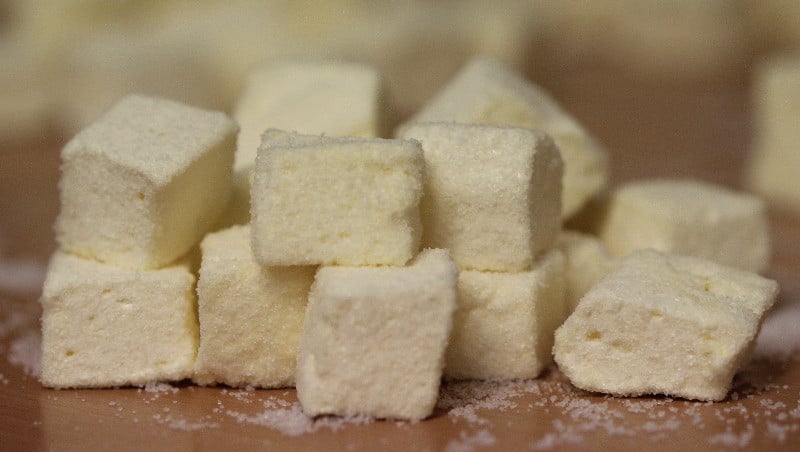 My sweets are handmade, using traditional methods and old-fashioned recipes. I use Scottish butter and cream, British sugar, Madagascan vanilla and Belgian chocolate. Where possible, I use Highland produce, such as fresh raspberries.
Fudge
My fudge has a melt-in-the-mouth texture and comes in several flavours, both classic and modern: vanilla, espresso, gingerbread and firefudge. And, of course, there is my whisky fudge with added ginger. I call it Whisky Mac, after my favourite winter warming drink.
Tablet
Scottish tablet is a long-standing traditional sweet. It is similar to fudge with almost the same ingredients and a stove-top method. Yet it is quite different too. Tablet is firmer to bite and then the crumbs melt away almost at once. Delicious.
Marshmallows
Homemade marshmallows are a world away from the ones you may remember from tuck shop selections. My marshmallows are decadent, gourmet and more-ish. Try my Awarding-Winning Sherbet-Lemon marshmallows - sweet, citrus and with a zing.
Truffles
Handmade truffles make a wonderful treat. There is a flavour for everyone. My Classic Truffles are made with creamy dark, milk or white chocolate centres and hand-dipped in matching chocolate. To flavour the centres for my World Tastes range of truffles, I use natural ingredients such as fresh ginger and coconut.
Other Chocolates
My range of handmade chocolates also includes caramels, coconut joys, almond dragées and naughty chocolate bars. The caramels and coconut joys are hand-dipped in milk chocolate. To make almond dragées, toasted almonds are stirred or dredged through melted chocolate. Naughty chocolate bars are little bars with sweets sunk into them.
Wedding Favours
Some products can be ordered as wedding flavours or in bulk. Please use the contact us page to enquire further.
Packaging
I aim to use environmentally-friendly packaging where ever possible. The brown bags are made from renewable resources and the gift boxes are made from card. I alse reuse packing materials.